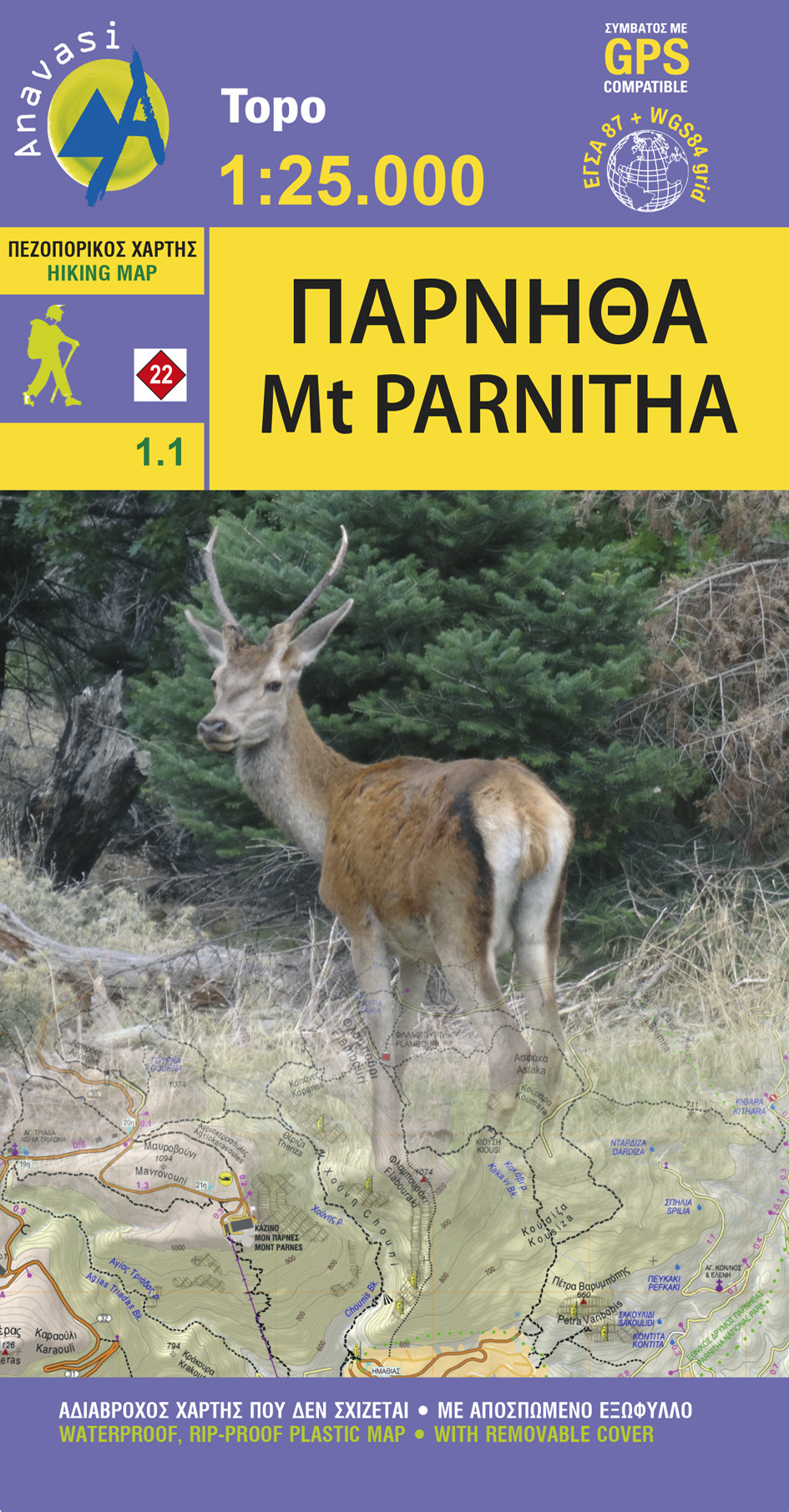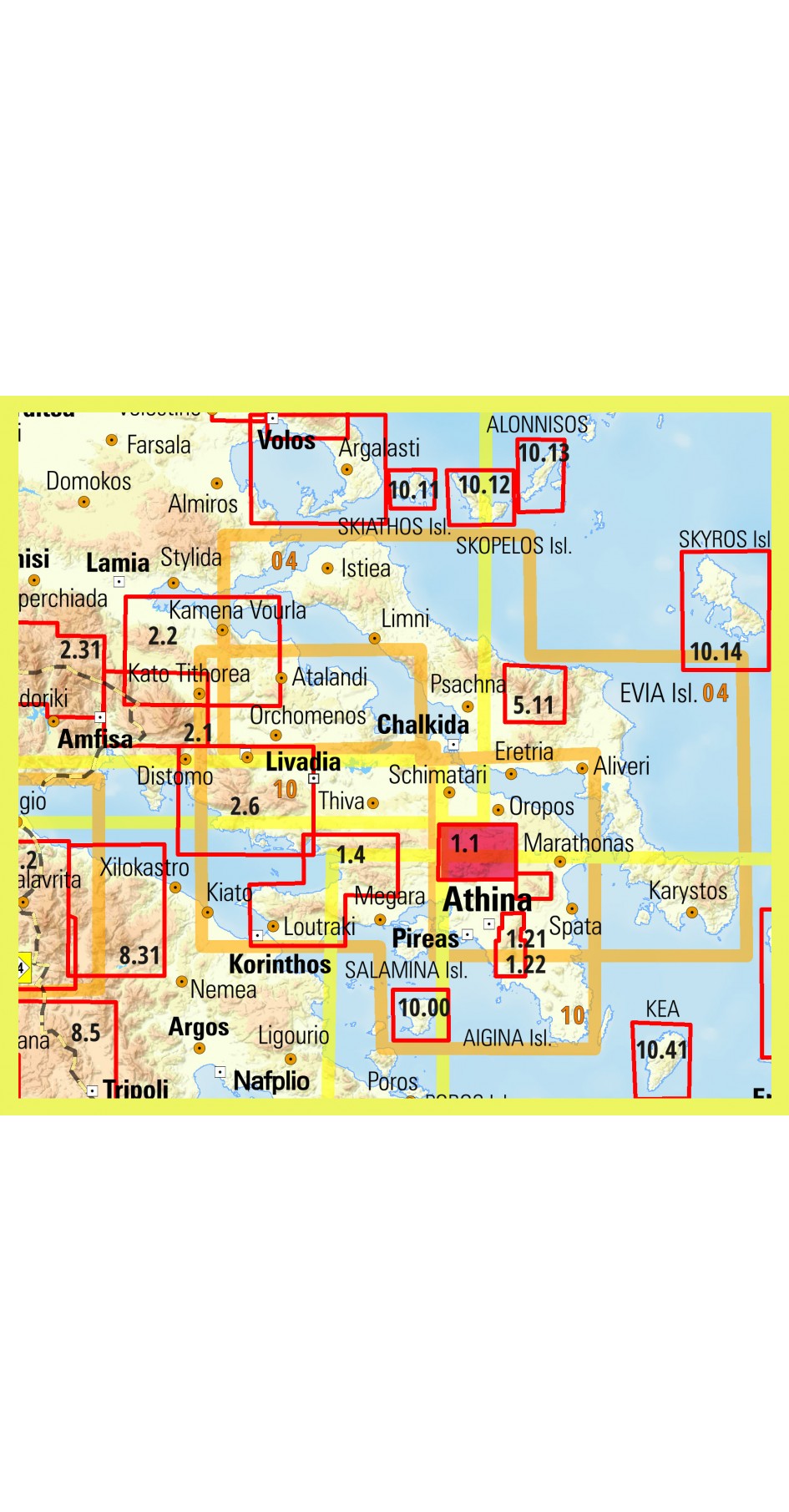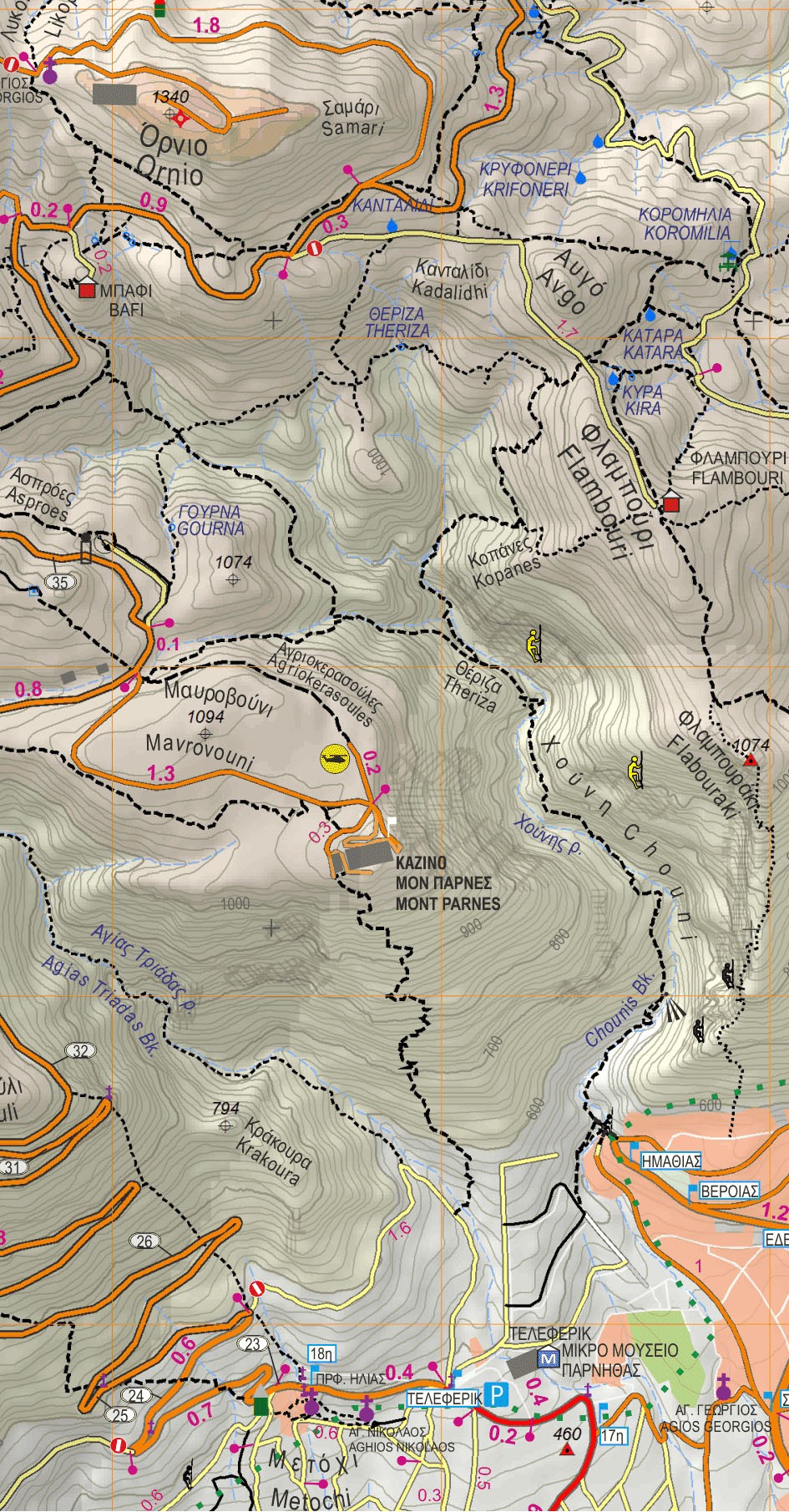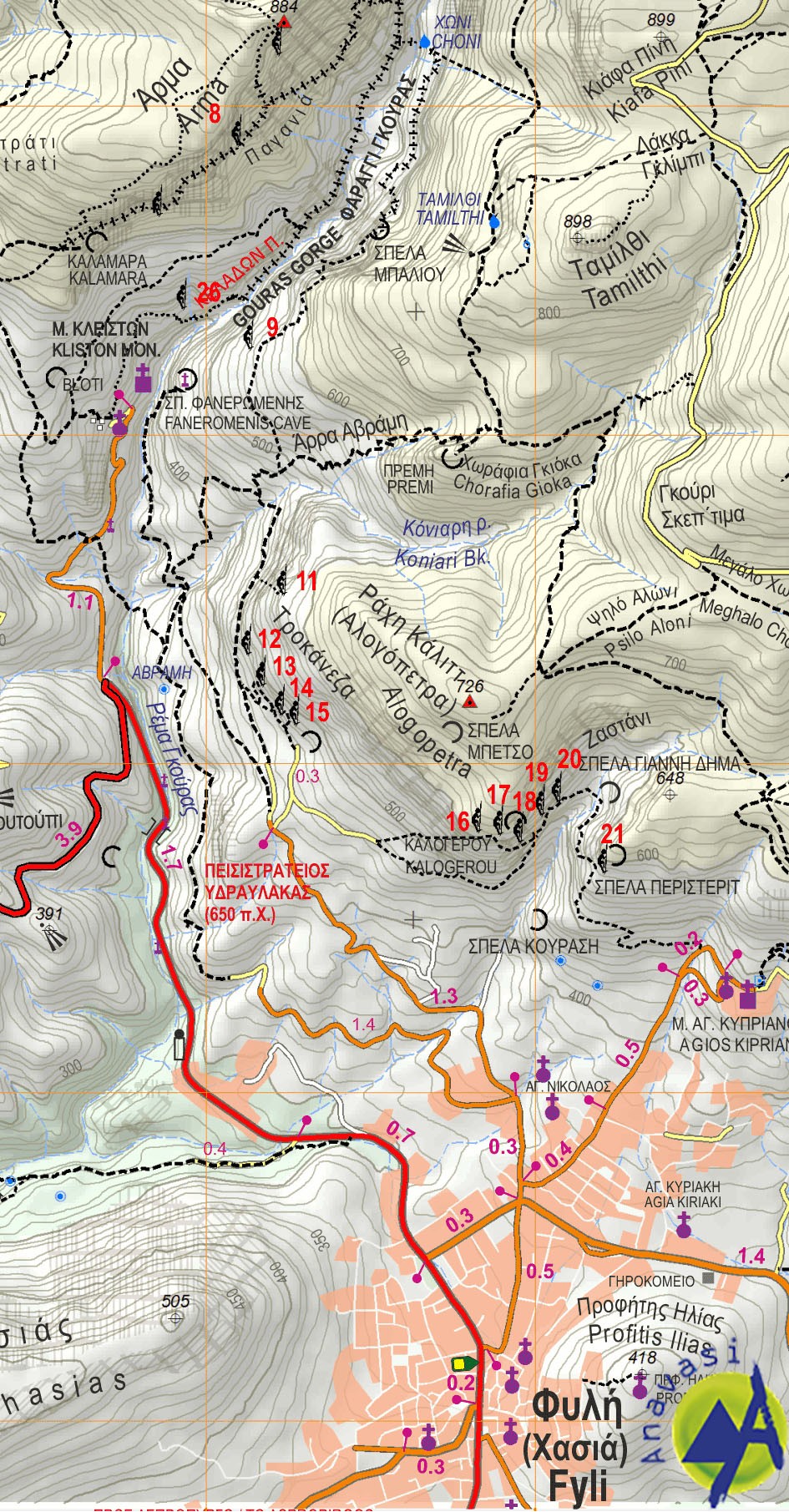 2-3 Days




Parnitha • Hiking map 1:25.000
Hiking map for Parnitha mountain in a scale 1:25 000.
Parnitha is the ideal destination for a short walk or a small hike near Athens. Everyone who lives in Athens has at least once taken the cable car to the Casino and from there walked to Mpafi refuge. Or gone down the route "Chouni". One of the best routes is the Flampouri ridge because it is so wild you forgot you are so close to home. 
Parnitha, the highest mountain in Attica, is a natural reserve where the Athenians come in contact with nature. The fir forest, the ravines and endless, scrubland, deers and birds are the manifestations of the wildlife we come looking for. It is an ideal destination for hiking, climbing, mountain bike, or even to build a snowman.
This Anavasi map has been reprinted many times and it presents the unnumerable paths of mount Parnitha with remarkable detail and accuracy, with all the information useful to hikers. This map is no longer just our own project, as it has been enriched by the comments and routes suggested by many friends and hikers, making the map even better.
Find suggested routes in "Anavasi Stories".
Flampouri Ridge in central Parnitha
Fili - Giannoulas Stream - Theodoras Gorge - Fili Fortress
To Pan's Cave and back through Giannoula's stream
Path along Giannoulas water conduit
Book
Publication date
2018
Information
Map reference code
1.1
Scale
1:25.000
FOR THE ANAVASI MAPP APP BUY THE MAPS DIRECTLY IN THE APP
Anavasi maps are all available in digital format (geo-referenced images), combining new technologies with high-quality cartography.
For use on smartphones (with Android Operating system) we recommend Anavasi mapp app. Within the application one purchases each map (corresponding to the printed one) separately. After the map is purchased and downloaded, the application works offline.
The map is identical to the printed one and shows your location in the center of the screen. We can also choose one of the proposed routes to follow.
For iPhone/iPad users we recommend purchasing our maps through the
Avenza Maps
application.
The digital maps available from our online store are geo-referenced map images in 3 different formats. All three are included in the compressed zip file.
1. Map image georeferenced in GGRS87, the Greek Geodetic Reference System (filename *87.tif), which can be used in GIS programs or other cartographic data management programs.
2. Map image georeferenced in WGS84, the global geodetic reference system (filename *84.tif), which can be used in GIS programs or cartographic data management programs.
3. Map image in Kmz format, which can be loaded on most new Garmin GPS models. Please check out the Garmin site to see if your GPS model supports "Custom Maps".
We recommend to use the digital map always in combination with the paper map that gives us a complete overview of the area and is useful when planning our journey.
It is forbidden to copy and distribute the digital files. They can only be printed for non-commercial use.

Anavasi