27 May

The map of the Vikos Aoos Geopark features 51 Geosites in the area.
The map features road network, settlements, hill-shaded relief and geological formations.
On the back of the map all the sites featured in detail with text and pictures.
Some of the featured geosites are:
The Provatina pothole, 408 m deep, it is one of the biggest perpendicular precipices worldwide. At -180 m, there is ice that never melts

"Petrino dasos" is an area of impressively developed karstic field at an altitude of 1,500 meters. Stone columns intertwined with vegetation, a "stone forest" is competing with the oak and maple forest. Thin layers of Eocene limestone are carved by water and the wind, having as guides the cracks opened by the rectangular fault system.
Theoktista are plaques of limestones which rise up abruptly, forming tower-like shapes. The holes in the limestones are remnants of old karstic ducts. The tower-like structures, like remnants of gigantic structures scattered in the area, even more impressive; they are due to the perpendicular erosion of the river.
A hydrogen sulphide warm thermal spring at Kleidonia village, the Neles spring, emanating at the base of Konitsa fault.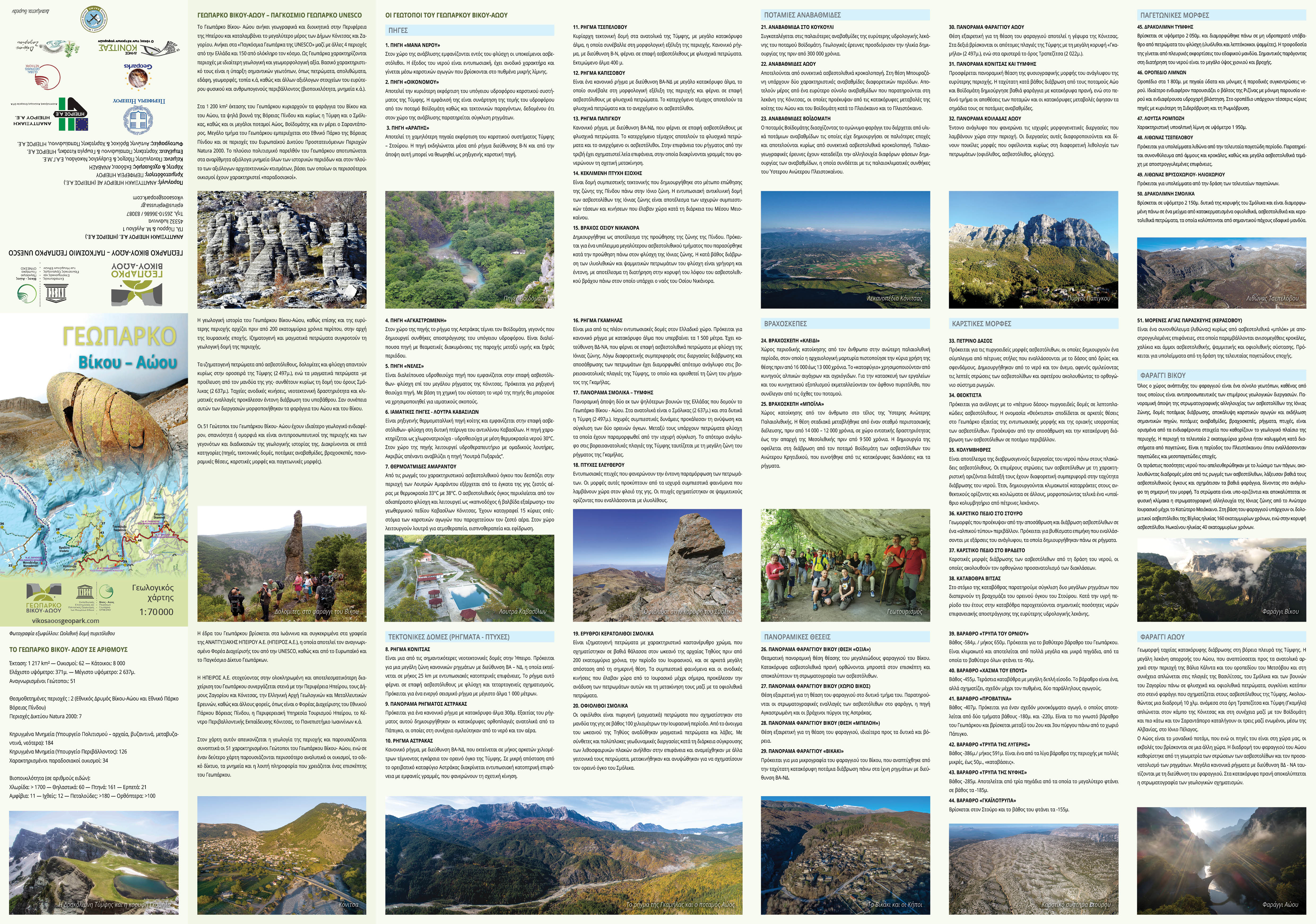 The area of the Geopark occupies the northwestern part of the Regional Unit of Ioannina in the Region of Epirus and particularly the most part of Zagori and Konitsa Municipalities. The high mountains of Northern Pindos dominate the area: mt Smolikas (2637m), mt Timfi (2497m), mt Trapezitsa (2022m), mt Nemertsika (2209m).

The main rivers of the area are Aoos, Voidomatis and Sarantaporos.
Vikos Aoos Geopark is part of the Global Geoparks and combines geology with environment, sustainable development, culture and tourism. According to UNESCO, these are "single, unified geographical areas where sites and landscapes of international geological significance are managed with a holistic concept of protection, education and sustainable development". A UNESCO Global Geopark uses its heritage to enhance awareness about climate change effects, while at the same it encourages sustainable development through geotourism and rural activities. Protections geological resources and the planet's geodiversity.
UNESCO's work with geoparks began in 2001 and at present, there are 147 UNESCO Global Geoparks in 41 countries. Greece, a land of major geological change, has five Global Geoparks and is also member of the European Geoparks Network. The five UNESCO Global Geoparks in Greece are: Chelmos Vouraikos UNESCO Global Geopark in the Peloponnese, Lesvos Island UNESCO Global Geopark in the Aegean, Psiloritis UNESCO Global Geopark & Sitia UNESCO Global Geopark in Crete and Vikos – Aoos UNESCO Global Geopark in Epirus. Millions of years of continuous mountain building have endowed Greece with amazing natural monuments.