12 Mar

From coastal Nafpaktos to the artificial lake of Evinos, there is an area with impressive relief, Upland Nafpaktia that corresponds approximately to the current Municipality of Apodotia. The name of the Municipality of Apodotia comes from the ancient people of Apodotia, who according to Pausanias lived in the southwestern areas of Vardousia and in the valley formed by the river Dafnos (Mornos in Modern times).
At the northern end of this area, towards Lake Evinos, are Kravara, an area synonymous with mountain isolation. Mountainous Nafpaktia is an area so mountainous and with a fir forest so dense that one would think it inaccessible. And yet archaeological finds prove that this area has been inhabited since antiquity. The heart of this isolated mountainous country is probably located in the area that extends from Ano Chora and Elatou, to Ambelakiotissa. Mountains as high as 1500 meters such as the Makrinoros - Tsakalaki ridge in the south, the Tsekoura - Ardini ridge in the north, the Kerasovouni ridge in the east and the Xerovouni - Alonaki ridge in the west, encircle the Ano Chora center tightly.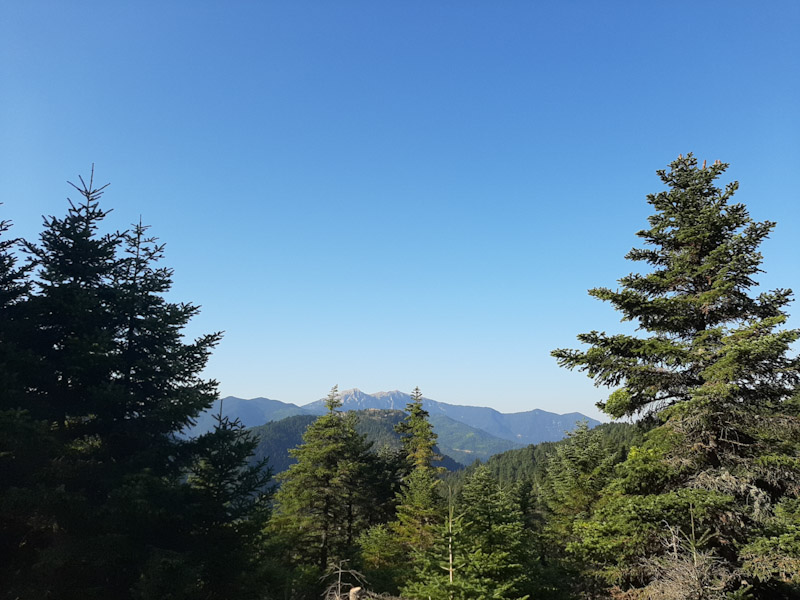 The route to the highest peak of the area, Tsekoura (or Pyrgos) starts from Stavros near the settlement of Kryoneria (Koutilisthia). The old livestock path moves through a fir forest and then goes out into a clearing, with stunning views to the mountains of Orini Nafpaktia and Vardousia. It intersects with the old connecting path to Ano Chora, and immediately after it passes next to the ruins of a church and probably the site of an old settlement whose signs have disappeared. Then the path becomes steep and moves in a rocky field. Following the ridge we will reach the top of Tsekoura. Do this walk on a day with a clear sky, as the view from the top is impressive either to the mountain of the peaks of mountainous Nafpaktia, Ardini, Tsakalaki etc, or to Vardousia and the artificial lake Evinos.
Return either from the same route, or following the path west to get out on the asphalt for the settlement of Ambelakiotissa (old Kozitsa) and its wonderful square with its many waters and the hospitable "kafenio".