10 Feb

The southern ridge of Mt Chelmos, also known as "Chtenia" (jagged rigde)
A genuine alpine route of great length, with technical passes and rappels. One thing you cannot leave unresolved is a plan to return to the car ....
The route starts from Kynigos col, the starting point for the ascent to Dourdouvana (it is ideal to get there by car start early in the morning!)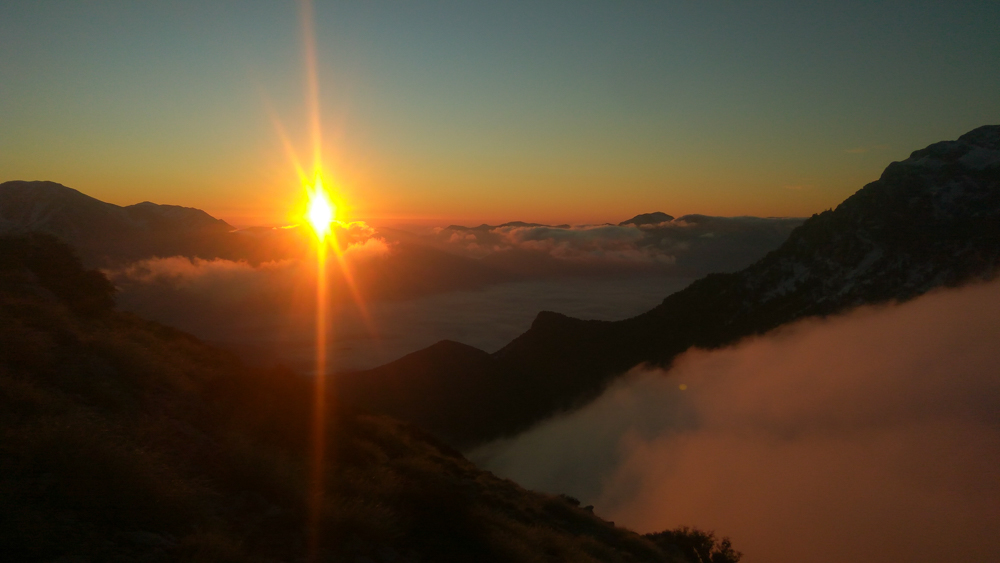 Heading north we follow the uphill slope that gradually turns into a ridge until we reach the crestline. From here and behind us to the right the view of the lake is magnificent. In front of us unfolds the first part of the crest up to Gardiki peak.The first peak is Nisi (attn the trig point is not located at the top), that we reach by easy scrambling. From here there is a drop in front of us; the natural course to the right (sparse red markings) with a II / II + downclimb leads us to the saddle before Madero peak from where we climb up again.
After peak Madero, technical passes begin (II + / III), and there is a five-meter rope left to the right (perhaps for some avoidance) and a steel cable in some passes. As the ridge slopes down and appears to lead to loose gullys, there is a belay with a bolt and pitons on a rock to the left for rappel (R1).
The rappel is about 20-25m and descends to the col where another tower rises in front of us. We climb it up and at the top there is a pinnacle with rope and a nautical shackle for rappel (R2). This rappel is 40m. With a 60-meter rope you will have to downclimb (III) part of the descent. After the rappel head up to Gardiki.
In front of us are the famous "Chtenia", a jagged crestline  ending between "Neraidalono" and "Psili Korfi". Go down a bit and reach the first passes. From now on sections up to III + offer plenty of fun and depending on our mood we choose where to go, since there are several avoidances. This part of the ridge has red markings with two options: the crestline or the avoidances.
Just before the last uphill part there is an aerial cable (This can be avoided if you follow the avoidances itinerary). At the end of the "Chtenia" and on the foot of "Psili Korfi" a new amazing view unfolds ... the valley of the Styx.
From here we have the option to get to "Psili Korfi" and then descend to Planitero for an overnight stay at "Kato Kambos" where there is water either to head for the "Ski Resort" or the Styx valley depending on our return plan.
Technical data
Length: 9 km from Kynigos col to Psili Korfi
Height Difference: + 1500 m /- 700 m
Technical passes up to (III +)
Rappels: R1 = 25m / R2 = 40m
Locally loose rocks
Long Return:  10 km from Planitero to starting point
Duration: 6 - 7 hours for the ridge without using protection at the passes. 1 - 2 days for the whole crossing
Ropes and climbing gear for the rappels
INCLUDED IN THE NEW EDITION OF THE MAP OF MT CHELMOS (coming soon)