11 Nov

Posted By
0 Comment(s)
654 View(s)
Works
The Municipal Council of South Kynouria, in collaboration with ANAVASI and local hiking groups, proceeded to select 15 paths and install 11 information signs with the aim of highlighting an important network of ancient paths, an element of our cultural heritage. In addition, ANAVASI designed a new map of South Kynouria at a scale of 1:30,000, while an updated version of the map of Parnonas at a scale of 1:50,000 is also being released, which confirms the elements shown on the map and the signs.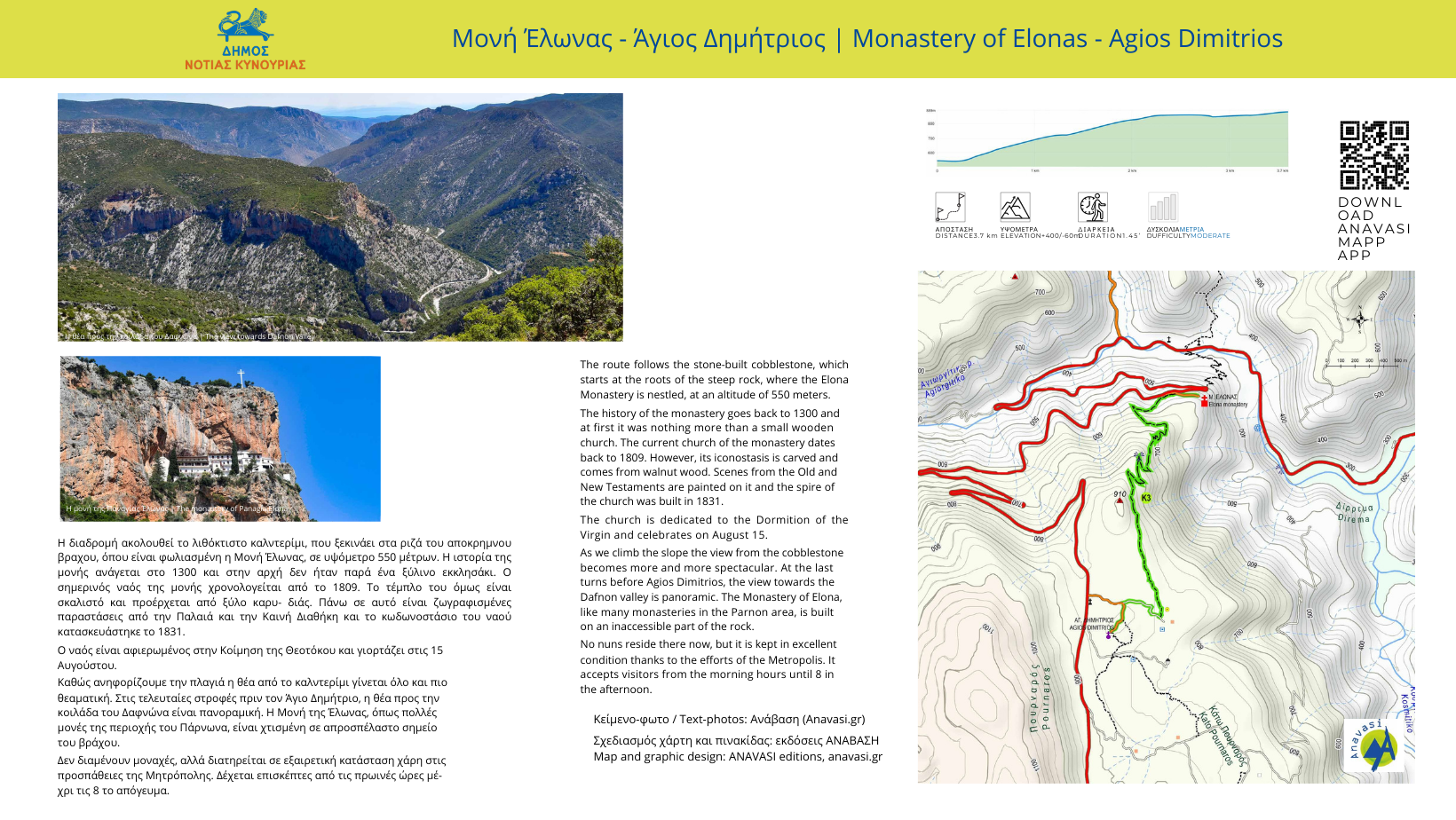 More specifically, 4 signs were placed in Leonidio, 4 in Tyros and 3 in Kosmas. They are made of Dibond. The first 4 signs depict, among other things, the route for the round of Leonidio, the mule road to the Lakes and the route from the Elona Monastery to Agios Dimitrios. Leonidio is built on the shores of Myrtoos Pelagos, under Mount Parnonas. It is characterized as a traditional settlement, i.e. it has preserved unchanged the image of the past and its local character. The round of Leonidio is an excellent way to explore the landscape, the second route ends at the plateau of the Lakes, which was a settlement of the village of Pragvetis and offers an impressive view. The third route that leads through a stone-built alley to Agios Dimitrios offers an excellent view of the Dafnon valley.
Similar beauties unfold from the signs placed in Tyros and Kosmas. In addition to the routes, the signs have QR codes to download the map of South Kynouria through the Anavasi Mapp application, where all the suggested routes are covered.