08 Mar

Touring and hiking guide from Anavasi editions for Prefecture of Evritania.
Evritania is an area with a great diversity of mountain landscapes. Through the 12 routes, the rich photographic material and the maps that accompany each route, the guide will take you to the monuments of nature and culture of the prefecture.
The guide emphasizes on hiking, the best way to discover a region. Each route is accompanied by at least one hiking trail illustrated by a small hiking map.
The monuments of the rich cultural heritage of Evritania have a prominent place in the guide and are the important stations of the routes. Some of the monuments are the Monastery of Prousos, the Holy Monastery of Tatarna, the Holy Monastery of Panagia in Domianos, the Holy Monastery of Stanas, the Towers of Karaiskakis, the monument of Markos Botsaris in Kefalovrysso, the historical school in Korousha, in Klausi with the Early Christian Basilica of Agios Leonidis …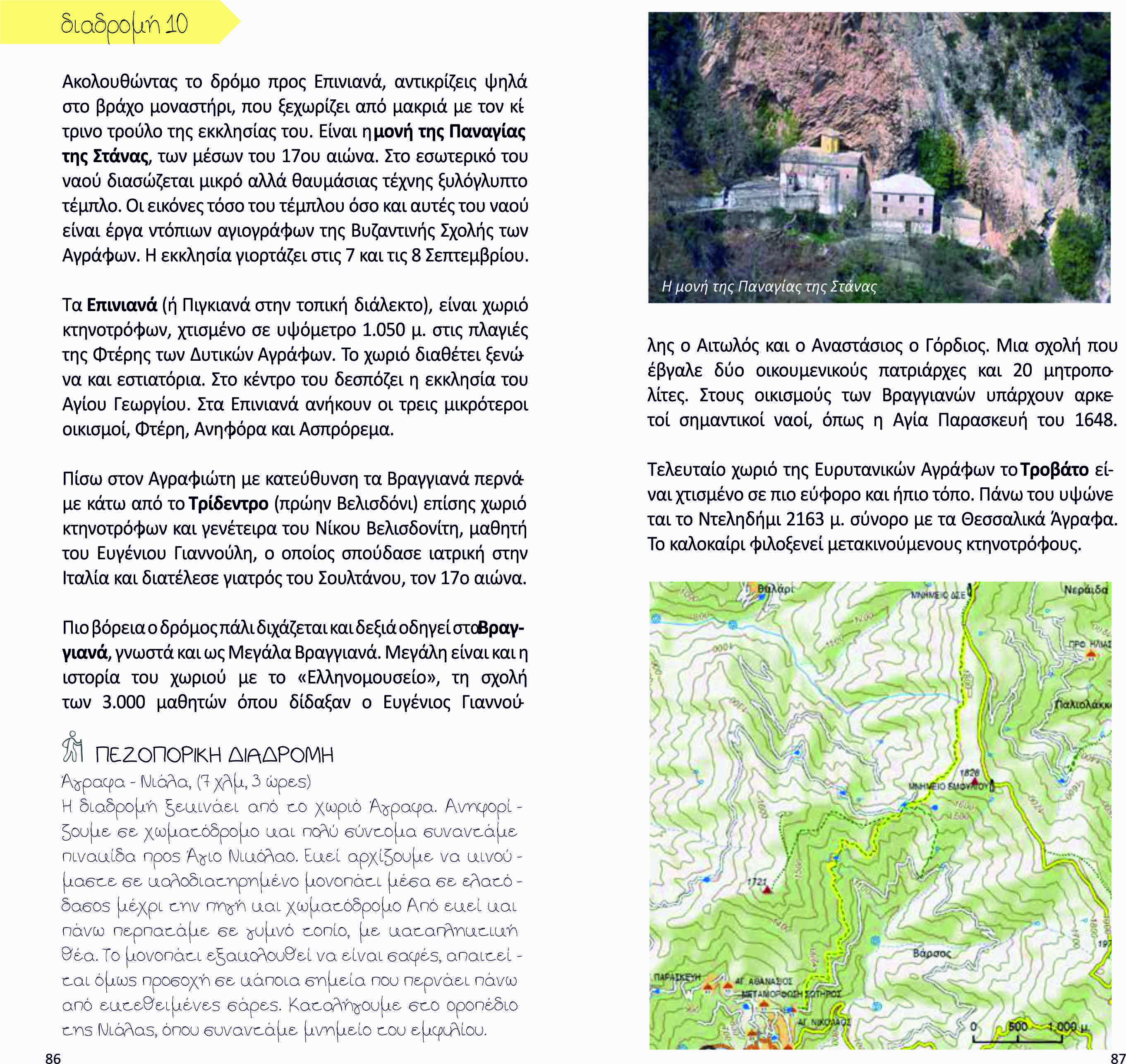 "Our tour will start from Karpenisi and imposing Velouchi and then follow the 12 routes we will visit all the settlements of Evritania. Before we start the journey it is good to get acquainted a little with the basic geography of Evritania which spreads from the trunk of Pindos, its mountains and valleys. The three large rivers that flow through its northern part delimit two parallel mountain chain bearing the significant name Agrafa.
The supra-local and mythical Acheloos (or Aspropotamos) that comes from Epirus, meanders at the western border of the area and opens a natural gate for the plain world and the sea, dragging the other rivers of Evritania to the plains of Etoloakarnania and the Ionian Sea . Agrafiotis, a native of Agrafa, meanders between the steep ridges of the complex, while Tavropos (better known by its old name Megdova) comes from the Thessalian plateau that is now covered by the artificial lake Plastira. The southern part of Evritania is formed by three large mountains, Velouchi (or Timfristos), Helidona and Kaliakouda, which feed two more rivers, the Karpenisiotis and the Krikellopotamos. On the border with Aetolia, the mountain wall of Panaitolikos forces the two rivers to turn north to come to join - through Trikerioti with the three northern brothers, in the huge artificial lake of Kremasta ... "(from the introduction driver's)